Military sets sights on new blend of aircraft tested at Langley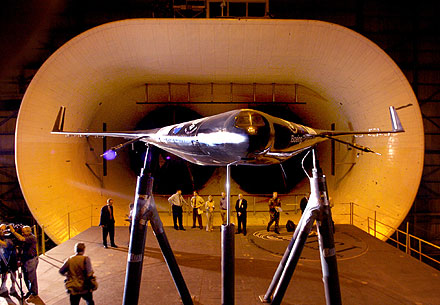 The X-48B Ship No. 1 aircraft underwent a low-speed wind test Thursday in a wind tunnel at NASA Langley Research Center. JOHN H. SHEALLY II PHOTOS/THE VIRGINIAN-PILOT



By JEREMIAH MCWILLIAMS, The Virginian-Pilot
© May 5, 2006



HAMPTON –– Perched atop a support stand in the bowels of a cavernous wind tunnel at NASA Langley Research Center, the X-48B prototype airplane evokes visions of a UFO. However, emblems from NASA, the Air Force and The Boeing Co.'s Phantom Works on its black and green composite body give a better indication of its origins.

The X-48B Ship No. 1 is a test vehicle – shrunk to 8.5 percent scale – for what developers hope one day could be a massive troop transport or fuel tanker. On Thursday, researchers unveiled the plane for a low-speed wind test at Langley's Full-Scale Tunnel.

The plane's blended wing body design resembles a flying wing, as opposed to a more traditional tube and wing configuration.

"These kinds of airplanes have some pretty quirky aerodynamics," said Norman Princen, chief engineer for the X-48B at Boeing's Phantom Works in Huntington Beach, Calif. "A conventional airplane has a tail and normal wings. Those are things you can see and touch and know they'll do their job. Here, we're taking all that away. Instead, we're relying on computer smarts."

To stabilize the X-48B in flight, the plane will rely on computer-guided flaps on the rear edges of the wings rather than a vertical tail fin.

"It's unconventional," said Drew Landman, an Old Dominion University associate professor who manages the wind tunnel under an agreement with NASA, as he stood near the plane in the shadow of the wind tunnel's twin propellers. "You don't see a lot of these things being built throughout history. They're different, but there's no reason they can't be tamed."


See the complete Pilot, exactly as in print
- View stories, photos and ads
- E-mail clippings
- Print copies
Log in or learn more

The X-48B prototype has a 21-foot wingspan, but a full-scale version could stretch about 240 feet from tip to tip – as large as a Boeing 747.
The flattened profile of the X-48B could yield serious advantages in fuel efficiency, Princen said. The plane has a high cargo capacity compared with outside surface area, which means it experiences less air drag than standard craft, he sai d.
The potential of the X-48B, which follows in a long line of "X-" or experimental aircraft, has caught the Air Force's eye.
The blended wing body "concept has the potential to cost-effectively fill many roles required by the Air Force, such as tanking, weapons carriage, and command and control," said a statement by Capt. Scott Bjorge, the plane's program manager for the Air Force Research Laboratory.
The plane is the result of cooperation between government and industry and across national borders. Boeing's Phantom Works in Huntington Beach designed it. Boeing subcontracted with England's Cranfield Aerospace Ltd. to build the X-48B.
Plane No. 1 – not to be confused with No. 2, which still is in England being prepared for flight – has undergone stress tests at Langley's Full-Scale Tunnel since April 7.
Boeing representatives say the program is still young and that the plane is perhaps 15 years from hitting the runways as a military craft. Engineers would have to tackle numerous challenges to make that happen, they said.
"There's a long road to prove this thing out," Princen said. "It's not something where we'll see products coming out in the immediate future."
Boeing spokesman Thomas Koehler declined to say how much Boeing has spent on the X-48B. H e said the project involves less than 50 Boeing employees nationwide.
The X-48B is scheduled to have endured 250 hours of testing at the wind tunnel by the time testing ends May 12. Then it will go to Edwards Air Force Base in California for remote-controlled test flights later this year. The plane is expected to be able to reach altitudes of 10,000 feet and speeds of 138 mph .
On Thursday afternoon, engineers started up the propellers – each about three stories tall – to drive air over the plane at 62 mph . The plane's wings rocked slightly as engineers in the control room raised the plane's nose to simulate a takeoff or landing.
"This is the fun part of the job: seeing the concepts come together into reality," said Dan Vicroy, senior research engineer at NASA Langley Research Center , as he watched the plane from an observation deck, propellers thrumming in the background. "It makes it all worthwhile."
li>Reach Jeremiah McWilliams at (757) 446-2344 or jeremiah.mcwilliams@pilotonline.com.
---