Will The Real "Boeing 797" Please Stand Up!
- - - - - - - - - - - - - - - - - - - - - - - - -
Also New, Boeing's "Reborn"
747- 8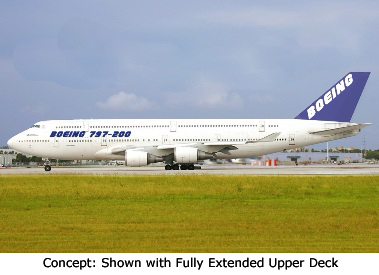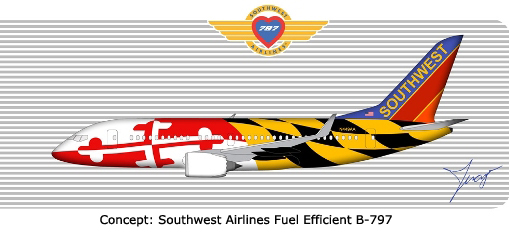 Web Page Entry, Saturday July 15, 2006

There sure has been a lot of speculation about the B-797, and some think it will be the new Blended-Wing-Body Aircraft that is now undergoing Boeing/NASA wind tunnel tests (identified as the US Air Force X- 48B). Click on these links X- 48B Boeing/NASA and Langley Wind Tunnel for more info. Currently this BWB aircraft is far from being a production airplane, and if Boeing did decide to go with this new design, it most likely would be called the Boeing "2707" as a number designator for their next generation of Commercial Aircraft, and also a possible Tanker/Refueler for the US Air Force (shown in concept photo above).
A more likely choice would be the above graphic showing the rendering of Southwest's B-797, as Southwest Airlines has asked Boeing for a replacement of the venerable B-737. With fuel costs escalating, airlines are looking to replace their large fleets of fuel hungry B-737's. Even Boeing's recent calculations show that there is a huge demand for "single isle" aircraft of the size and range of the 737. By incorporating new aerodynamics and engine technology as learned on the Boeing's 787 Dreamliner (now in production), this would be a smart choice for Boeing's new B-797.
However, right now Boeing needs to concentrate on recovering its investment costs on their New B-787 Dreamliner, and also on the new Boeing 747- 8 Advanced Aircraft that Boeing has approved for production, and is currently in the design phase. The new 747- 8 will incorporate aerodynamics learned from 787 Dreamliner, and will be more fuel efficient giving more competition against Airbus' A380 "Double Deck" Jumbo. It serves the 400- to 500-seat market (between the 555-seat Airbus A380 and the 365-seat Boeing 777-300 Extended Range airplanes). Boeing now has 34 confirmed orders for this new Boeing 747- 8 Advanced Aircraft.

Click on these links Boeing's Reborn 747 and Boeing to Compete with Rival Airbus.

Boeing vs Airbus - Farnborugh 2006.

For additional info see Boeing's 747- 8 Multi Media Web Site.
As for Boeing's decision on their B-797 Aircraft… we'll just have to wait and see.
Happy Flying,
Bill Gardner